Drain Blockages
Blocked drains come in all shapes and sizes and blockages occur for many reasons. Accidental obstruction, a build up of fats and tree root intrusion are just some of the drain blockages we deal with on a daily basis. No matter the cause or the type of drain or drainage system, Kent Maintenance can help. We have the experience and specialised equipment to identify and resolve all types of blockage.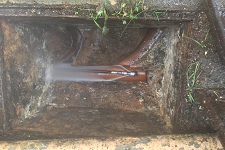 Often blockages occur causing inconvenience and disruption. Kent Maintenance Drainage can investigate instances of recurring blockages and provide long-term solutions, such as regular drain maintenance, repairing damages drains that cause blockages, and in extreme cases replacing the blocked drain.
Our range of drainage services cover:
| | |
| --- | --- |
| Drain Blockages | Obstruction Removal, Root Damage Resolution, Damage Repair/Replacement. |
| Manual Blockages | Drain rods, gully grabs, Aco Systems. |
| Mechanical Blockages | Latest 3000psi high pressure jetting unit up to 90 meters. |
| Drain Cleaning | Pressure Jets, Bacteria Protection, Fat Removal and Fat Traps. |
| Emergency Call-Out | 1 hour emergency call-out response. |
Call us today on 01634 960918 no matter how small or large your drainage need.